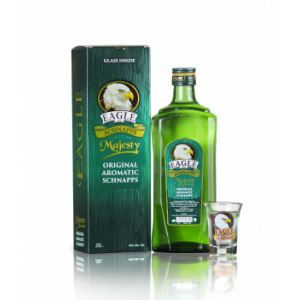 EAGLE AROMATIC SCHNAPPS
Eagle Aromatic Schnapps is a crystal clear Aromatic Schnapps that elicits consumers' satisfaction because of its characteristics taste and flavour. It is highly preferred by men of inherent dependable strength and Wisdom. Revered as a prayer / libation drink that is sure to connects us to our ancestors.
BRAND PRESENTATION
1 litre x 6 glass bottles
75cl [g] x 12 glass bottles
75cl x 12 glass bottles
3cl x 12 packs x 25 sachets
BRAND CHARACTERS|PERSONALITY
Sage, wise, Sacred, Majestic, Revered, Enduring, Strong, Masculine
SHARE PRODUCT
Related Products
VELETA FRUIT DRINK

VELETA Sparkling Fruit Drink is a luxurious blend of handpicked grapes, with hints of Citric Acid, Water and Vitamins B extracts, making it, undeniably nutritious to the body. Its sparkling, rich & delicious taste makes it enjoyable, at every time and by everyone.

For consumers:

Why consumers should buy Veleta? Because

Veleta is a Quality brand from the stables of Intercontinental Distillers Ltd
Veleta comes in an elegant Bottle, adorned with an exquisite silvery foil around the neck & label
In every bottle of Veleta, is a luxurious blend of Grapes, Citric Acid and water, crowned with a wire corkage and Oak Cock, which not only protects the liquid, but makes a delightful
"pop" when opened.
Veleta makes every occasion elegant and adds that extra flare on any cocktail & mock tail mix.
Great value for money.

For the retailers:

Why should you stock Veleta?

Premium product quality.
Unbeatable Profit Margin per bottle.

Available in different pack sizes and variants that makes every occasion luxurious.

Key differentiation from competition

It has a distinctive packaging, vibrant look and luxurious feel across all variants.
Unique recipe produced from handpicked grapes, citric acid, water and Vitamins B extracts.
Premium product from the quality house of IDL.

Available SKU's

Available in 4 pack sizes, in 3 variants- Red Grape, White Grape, Peach Grape.

75cl x 12 bottles
75cl x 6 bottles
37.5cl x 12 bottles
37.5cl x 6 bottles

Pay-off

Life is a celebration, Enjoy it, Every day!!