Intercontinental Distillers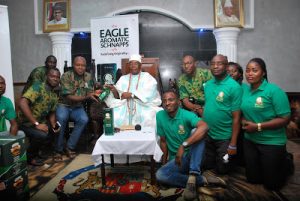 Eagle Aromatic Schnapps, Nigeria's leading prayer drink, in its usual tradition of promoting culture, paid a visit to the Alake of Egbaland, Oba Michael Adedotun Gbadebo recently.
The visit, which was to pay homage to the King and thank him for the immense contribution to the relaunch of the Brand recently, was led by the Head of Marketing, Mr Mobolaji Alalade.
The Monarch poured libation with the Eagle Schnapps and prayed for the peace and well being of those present; he also said a prayer for Nigeria, asking that her economic fortunes should improve.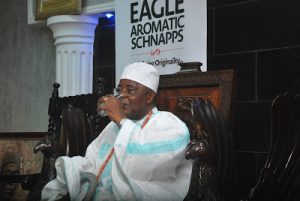 Mr Mobolaji Alalade said that Eagle Schnapps would continue to embark on activities which would ensure that our tradition and Culture are preserved.
The Alake's Palace is a testament to the rich culture and wealth of the Egba people.
More Photos: