Eagle Schnapps enjoys the Mbaise hospitality.
Intercontinental Distillers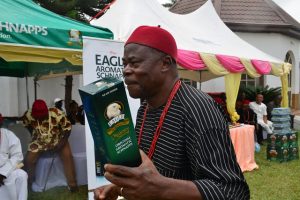 Have you been to Mbaise in Imo State? It has 95 autonomous communities and boasts of over 3 million people.
Beautiful, lush, welcoming, friendly, hospitable are common  adjectives that describe the culture-loving people of Mbaise.
Eagle Schnapps, Nigeria's authentic schnapps for culture and tradition experienced these first hand, when its delegation visited Umunneato community in the culture-rich Mbaise area, under the traditional ruler-ship of His Royal Highness Eze Leo Nwokocha .
Ogologo ndu diri ndi Mbaise !
See more pictures: