Confam Bitters Schnapps enters the Nigerian market with a bang!
Intercontinental Distillers
Confam Bitters Schnapps, a Brand from the stable of Intercontinental Distillers Limited, was launched recently into the Nigerian market at the busy Ojuwoye market in Mushin, Lagos amidst pomp and pageantry. The event was graced by some distributors of the company, market union leaders and popular female Juju musician St. Janet who sang to the delight of the Consumers present.
According to Mr. Mobolaji Alalade, Head of Marketing, Intercontinental Distillers Limited, Confam Bitters would bring a total revolution to the bitters market.
With its alcohol content at 28%, Confam Bitters will deliver on all the benefits of taking Bitters while still offering a good "Bitters experience". It is expected to be found in major markets, neighborhood retail shops, bars and all other leisure destinations where young men and women have a relaxing time.
Confam Bitters Schnapps stands out with a leafy dark green pack and a symbol of "thumbs-up" on the design. It comes in a variety of sizes: 5cl, 10cl and 37.5cl.
Random Consumers at the Market square were selected to sample the new Confam Bitters Schnapps and they all gave compliments to the new Bitters. Distributions had begun and free samples were shared around the market.
The launch of Confam Bitters Schnapps not only presented the Nigerian market with a new Bitter, but it also offered the people what they want, low alcohol content and effective herbal attributes.
Watch out for the Confam train which will come to a bar near you (Lagos – Ogba, Ikotun, Egbeda; Ogun – Sango, Pansheke, Lafenwa; Ibadan – Bodija, Challenge; Ondo – Owo; Benin – Ekpoma; Warri – Epa and Wuye).
Consumers can look forward to the exciting promotions which the Confam Girls will carry along.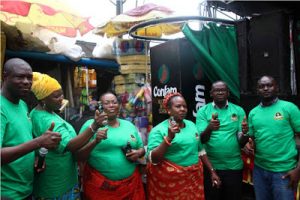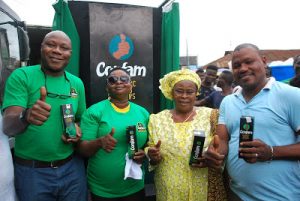 More photos below: