3CL EAGLE SCHNAPPS WEARS EXCITING NEW LOOK
rsl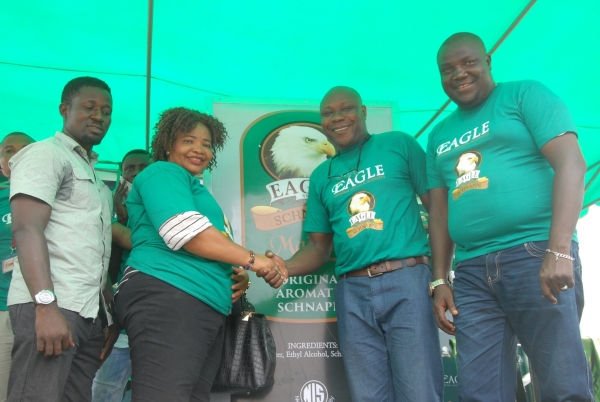 Intercontinental Distillers Limited, makers of Chelsea Dry Gin, Squadron Dark Rum, etc has relaunched the 3CL Eagle Schnapps. This was done in various markets including Ojuwoye in Mushin, Oke-Arin in Lagos, Sango Market in Ogun and Agbeni Market in Ibadan with fanfare.
The Head of Marketing, Mr Bolaji Alalade describes the relaunch as a necessity. According to him, the brand has been refreshed and consumers can now enjoy a better drinking experience. He added that the new look affords the brand a better interaction with the consumers.
He said a lot of marketing research and innovation had gone into the new 3CL Eagle Schnapps and he encouraged their trade partners to stock up as it will yield the desired dividends.
The Iyaloja General, Odi Olowo Ojuwoye LCDA, Mrs Mufuliat Adebunmi  thanked the management of IDL for bringing the event close to the trade and wished the brand greater heights. The relaunch involved music, dance, drama and games which afforded opportunities to traders and passers-by of the various market places and so many of them went home with several gifts such as Pens, T-shirts and Buckets. A random pick from the audience got the chance to show off great talents and were rewarded for it.
The relaunch not only presented the new face of the 3cl Eagle Aromatic Schnapps, but it also offered a very warm embrace to consumers and everyone able to sample the relaunched brand in appreciation of their patronage and acceptance of the brand.